Oracle Argus Safety upgraded to 8.2.3
We have been offering Oracle Argus Safety 8.1.1 software access as part of our Pharmacovigilance and Argus Safety courses, as well as through our Oracle Argus Safety – software access subscription service. This has allowed learners to get 24×7 access to the software as part of their programs and help them practically work on the software to get valuable hands-on practical experience.
Today we announce that we have completed our upgrade to Oracle Argus Safety latest version 8.2.3 which brings with it new features, improved cross borrower compatibility as well as support for new regulations.
Nuances of Argus Safety 8.1.1
One of the nuances of Argus Safety 8.1.1 was the limited support for browsers as it only supported Internet Explorer 11. There were couple of problems with using this version:
Most learners use Windows 10 which comes with Internet Explorer Edge as default which was not supported by Argus Safety 8.1.1
It required tinkering with compatibility mode and settings to make it work with Internet Explorer 11
Most users have adopted Google Chrome which did not support Argus Safety 8.1.1
Argus Safety 8.1.1 was not updated with recent regulations
With the upgrade to Oracle Argus Safety 8.2.3 all of these issues have been fixed thus allowing learners to access the most updated version of Oracle Argus Safety being used in the industry and being in sync with the industry requirements.
Updated Features of Oracle Argus Safety 8.2.3
In April 2021, Oracle released the new version 8.2.3 that addresses new regulatory compliance requirements, several functional enhancements, enhanced user experience and critical technology updates for the Argus Safety and Argus Insight suite of drug safety applications.
Here are some of the features of the newly deployed Oracle Argus Safety version 8.2.3:
Regulatory Compliance Updates
CDRH eMDR Updates
The revised guidelines published for eMDR reports submission (May/ Sep 2020) from CDRH are now incorporated as configurations with changes introduced in the Console, Case Form, and Interchange mapping. There are new updates in the IMDRF Codes and to the general eMDR Profile.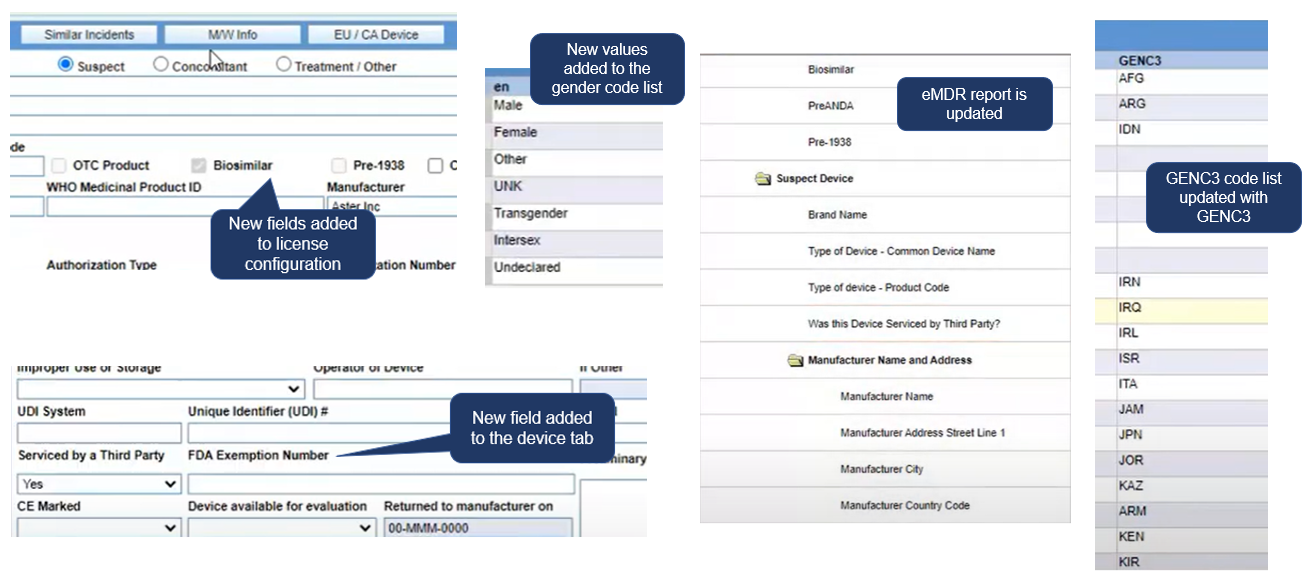 CBER eVAERS Changes
To comply with CBER's revised guidelines for eVAERS (June 2020), Argus Safety has several new changes to Interchange mapping & Device code mapping updates.
South Korea MFDS Related
The MFDS E2B(R3) profile has been updated with new business rules which includes new mappings and XML file reference validations. Transmission of STUDYNAME element in the Korean language for E2B(R3) submissions to MFDS is now in the local language.
Brexit Related
Post Brexit, there are new regulations in effect for ICSR Reporting to MHRA. This new version of Argus has a Code List update to include NORTHERN IRELAND as a new Country as part of EEA. Also, there are several Interchange Updates that have revised Import and Export Mapping Logic for EMA R2 and R3 Profile for country code "XI".
EMA Related
To address the 'Negative Acknowledgement' problem in scenarios when there are multiple reporters, the mapping rules are now enhanced, such that reporter country is populated, even when the Protect confidentiality check box is marked. Additionally, new validation is provided to check if at least any one of the elements is present with a valid value in all the reporters included in ICSR reporter family name, organization, post code and country.
Japan Related Updates
This version supports Japan's Ultramac dictionary for reporter and institution data. With the modern browser support, it is recommended to use wider screens when you use vertical split screen for Japanese or English view.
Cross-Browser Compatibility Support, User Interface Enhancements, and Other Functional Updates
Oracle Argus Safety has been enhanced to support the following alternate modern browsers instead of Microsoft Internet Explorer IE 11:
Google Chrome version 84.0.4147.135 (Official Build) (64-bit)
Microsoft Edge (Chromium based) version 84.0.522.52 (Official build) (64-bit)
With alternate browser support, users can now leverage the following capabilities:
Spell Check: With alternate browser support, Argus web application now supports the spell check feature as supported by the browsers rather than limiting to few screens.
Button to minimize/maximize/close: To enable user to close the pop-up screens in Oracle Argus, the Closebutton is added wherever it was not available. Now, you can close the window using the Close button instead of the cross button (X). Alternatively, you can you the Esc button to close the window.
The notable updates to the application user interface are:
Auto-resizing of windows
Display of visited link
Oracle Argus Japan split screen
File Display Path
Autofill Password
Restriction of Emoji's usage
Additional Enhancements
Common profile switches updates, Reporter information display in code list with large number of institutions associated, Argus Console enforces field configuration for E2B destinations and Chart option in CDA report configuration.
Argus Insight Updates
The Oracle Argus Insight menu to invoke BO and Cognos has been removed. This also includes the removal of common profile switches related to BO/ Cognos.
For more detailed information about the Argus Safety v8.2.3 release, please click here visit the official Oracle Release Documentation.
Clinskill – Digital Learning Academy for Clinical Research now provides its students and professional 24×7 access to the latest version of Oracle Argus Safety version 8.2.3 as part of its programs, so that your learning is comprehensive and current as per regulatory requirements.
For a deep insight into the world of Pharmacovigilance, subscribe to our Pharmacovigilance Knowledgebase
Want to explore a career in Pharmacovigilance? Join our Diploma in Pharmacovigilance program and kick-start a career in Pharmacovigilance and Oracle Argus Safety.
Already completed a program in Pharmacovigilance. Enhance your expertise on the Oracle Argus Safety software by pursuing our Oracle Argus Safety program. You can also subscribe for 24×7 access to the Oracle Argus Safety software for practice.
You may be interested in…