In this post we will be providing an overview of Oracle Siebel Clinical and how organisations use Siebel clinical to manage their clinical trials more efficiently and effectively.
Learning Objectives – Oracle Siebel Clinical
By the end of this post, you should be able to recognise the key challenges faced during the conduct of clinical trials and understand how Siebel clinical can assist organisations with improving their clinical trial operations.
In addition you should be able to recognise the key components of the Siebel clinical solution offering and also understand how these components provide value both from a technical and functional perspective. The last part of this presentation provides some general information regarding available solution options and summarises some of the key competitive differentiators that make Siebel clinical a market leading clinical trial management solution.
Challenges in Clinical Trial Management
Clinical trial management often requires organisations to manage multiple competing activities that in combination drive to bring a new drug compound to market. Organisations have to manage costs and budgets relating to clinical trial expenditures, which often run into millions of dollars over many months if not years.
Clinical trial operations are often the largest single cost component of the drug development program for a new compound and these costs needs to be managed to prevent overruns and budget deficits. Clinical trials activities if not managed effectively have the potential to delay time to market and lead to lost revenues.
Consequently it is important from a commercial perspective that resources and activities are managed to minimise timelines and maximise throughput. Throughout the entire development programme, it is necessary to ensure compliance with relevant regulatory frameworks and this is in the form of compliance with organizational controls, policies and processes and external regulatory guidelines.
Types of organisations that use Oracle Siebel Clinical
There are four customer types that specifically use clinical trial management systems, they are:
Pharmaceutical or biopharmaceutical companies
Medical device manufacturers
Contract research organisations
Academic or publicly funded research institutes
These customers conduct their operations globally, and in accordance with regional and country level regulatory frameworks. The principal geographic regions are the United States, which is regulated by the food and drug administration, Japan which is regulated by the Japanese Ministry of health and welfare and Europe which is regulated by the European medicines evaluation agency.
Oracle Siebel Clinical – Addressing the Issues in Clinical Trials
Potential customers often articulate their operational challenges by identifying constraints or limitations in the way that they conduct their clinical trials.
Typically these can be categorised as:
Reporting needs – which describe the ability to obtain transparency into their operations
Compliance needs – which describe their ability to follow corporate policies and processes
Planning needs – which describe their ability to setup a study quickly and with the right partners and
Operational needs – which describe their needs around collecting and managing data collected as a result of their clinical trial activities
In all these cases Siebel clinical can be used to address these requirements and provide a foundation upon which further requirements may be delivered.
How Siebel Clinical fits in the Oracle Health Sciences portfolio
Siebel clinical is a web based, enterprise class application designed to help organisations manage their clinical trials both internally, and externally with collaborating and partnering organisations.
Siebel clinical is a member of the Siebel CRM family of products in addition to being a member of the health sciences product portfolio. It is built upon the same technology platform as Siebel CRM, which is used by tens of thousands of users, across a wide spectrum of industry domains, for over a decade.
Together with Oracle clinical, and Oracle remote data capture, and Oracle AERS Siebel clinical provides a solid, regulatory compliant foundation upon which the entire clinical trials management process can be effectively and efficiently managed.
Companies that use Oracle Siebel Clinical
Siebel clinical is used by traditional pharmaceutical companies, medical device companies, Academic institutes and contract research organisations of all sizes. This image below shows a number of select Siebel clinical customers.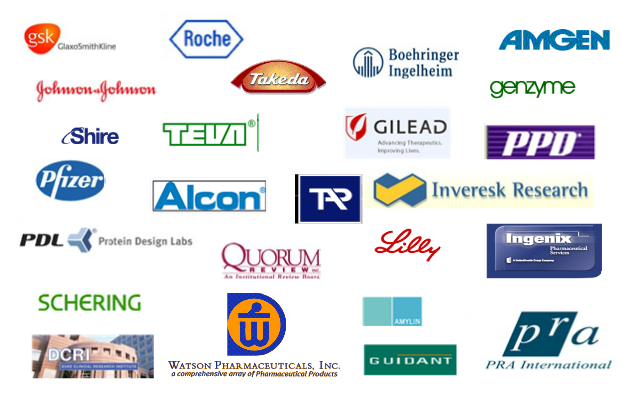 Value Proposition of Siebel Clinical
The value proposition for Siebel clinical is centred around accelerating time to market. Siebel clinical enables organisations to streamline their clinical trial processes, enhance productivity and improve relationships with their investigators whilst providing up to date information on their activities.
Efficiencies can also be realised through better cost control, planning and resource management, whilst quality and risk are managed through the enforcement of organisational processes and policies.
Key Capabilities of Siebel Clinical
Siebel clinical offers a number of functional capabilities that provide organisations with the ability to support a wide variety of clinical trial business processes. For a example, to support accelerated study planning and start-up, Siebel clinical provides the following capabilities,
Firstly A comprehensive, consolidated, easily accessible investigator database that can be interrogated to find available, well-qualified and high yielding investigators
Secondly Automated workflows and triggers to initiate investigator payments, perform enrolment roll ups across sites, regions and protocols and to generate alerts Thirdly Extensive use of region specific milestone, activity and document templates to quickly set up sites.
Supported Business Processes
Siebel clinical supports the three key areas of study planning and setup, study conduct, and study close out.
Specifically Siebel clinical allows organisations to:
Plan Clinical trial projects, by setting up budgets, resources and milestones
Set up clinical trials studies, by identifying investigators and sites, setting up protocols, visit schedules and enrolment forecasts
Assist site activation and study start-up – by ensuring that all necessary approvals and agreements are in place
Assist study conduct and site monitoring – by using structured checklists, activity templates and document packages
Assist interim reporting and study analysis, by making data easy available to various stakeholder groups
Perform study close out by ensuring sites are closed in an organised and structured manner
Siebel Clinical Modules
Siebel clinical is offered with a set of core and mandatory modules.
This image below shows all the different modules there are available with Siebel clinical for a typical deployment. Siebel CRM base is the only mandatory module and forms the foundation of the Siebel clinical application. It supplies the application data model used by all the other modules.
Business intelligence publisher is an optional module that is used for end user reporting. Siebel anywhere and Siebel remote are two other optional modules, there are designed to work together, to provide the advanced synchronisation and off-line capability.
The modules shown by the grey boxes, such as investigator portal, Siebel contracts, and Siebel document tracking – are also optional and provide pre-built functionality.
Siebel tools is an optional component, which is used by developers to enhance and extend the features provided by the Siebel clinical application.
Siebel Clinical Module Functionality
The following are the modules of Siebel Clinical and their role in streamlining the management of clinical trials.
Investigator Portal
Investigator Portal provides a personalized Internet portal for site coordinators and clinical investigators to screen and manage enrolled subjects.
The site portal can also include Siebel Calendar, which allows sites to manage their calendar of subject visits, and Siebel Community, which allows them to chat with other sites about lessons learned throughout the study. Because the site portal is completely integrated with Siebel Clinical it allows sponsors of clinical trials to deploy varied Business strategies to improve clinical trials management and create stronger relationships with important clinical investigators.
Siebel Contracts
The Clinical Contracts module enables organizations to create and store contract information for clinical studies at each clinical site. When used in combination with the Clinical Payments module, clinical organization is able to track investigator payments against contracts.
Siebel Document Tracking
Siebel Document Tracking helps study managers, CRAs and investigators to streamline and simplify the document tracking process. Users are able to track documents at different levels of the clinical trial hierarchy, such as by site, protocol, or country, and for different entities such as investigators and IRBs.
Furthermore, Siebel Document Tracking consists of several built-in reports that allow users to quickly identify the status of the documents and take action as necessary, to ensure regulatory compliance and to expedite the trial activities.
Siebel Protocol Builder
Siebel Protocol Builder provides a powerful tool for trial sponsors to ensure protocol adherence in clinical trials. Using visit and activity templates, study managers can transform a written protocol into a visit scheduler that can be applied to subjects. Siebel Protocol Builder fully supports Protocol Amendments by version control coupled with tracking of the corresponding investigation review board approval dates.
Siebel Payments
Siebel Payments allows trial sponsors to create, monitor, and track clinical trial-related payment activities. It is possible provide up-to-the minute information to site personnel and investigators about their past and current payments, and inform them about the upcoming payments. One button payment generation streamlines the process of calculating payment amounts based on completed visits or activities, enabling sponsors to pay more quickly while increasing investigator satisfaction.
Siebel Project and resource management
Siebel Project and Resource Management empowers all clinical teams to effectively plan clinical trial projects, develop trial action plans, and track and control the entire trial process.
This module allows users to closely monitor project development status and benchmark it against performance milestones and critical events. Its rich assignment capability allows organizations to load balance resources using various criteria based on their business requirements.
Siebel Clinical also enables the project management team to manage tasks, activities, and resources using integration with Microsoft Project.
Siebel Projects Cost tracking
Siebel Clinical Project Cost Tracking provides a dashboard for monitoring all costs associated with running clinical trials. Actual costs of investigator payments, project tasks, and project activities can be tracked against the budgeted costs on a single view.
Siebel Trip Reports
Siebel Trip Reports allows CRAs to produce high quality trip reports using standard templates created by clinical managers. Siebel Trip Reports helps CRAs to efficiently track open issues and follow-up items, leading to better site management and stronger investigator relationships.
Finally Siebel Trip Reports also provides a central repository for all trip reports allowing study managers to easily review, approve, track and archive trip reports.
Business Intelligence Publisher
Business Intelligence Publisher is an optional modules that is used for reporting across the entire clinical trial management application.
Using Microsoft Word, it is possible to create report templates, published them onto the Siebel clinical application server, and then execute the reports to generate real time status updates. Business intelligence publisher can be used by business analysts, and those in clinical operations, without the need for assistance from the IT function.
Competitive Differentiators
Siebel clinical offers a number of compelling competitive differentiators that position it uniquely within the CTMS marketplace.
From a functional perspective, Siebel clinical provides the most complete clinical trial management solution, in terms of out-of-the-box capability and through additional optional modules. It offers a comprehensive set of application enhancement and extension options that future proof any implementation
From a technical perspective Siebel clinical provides users with an enterprise level architecture that addresses demanding requirements related to, high availability, performance, scalability, integration, security and application life cycle management. No other clinical trial management solution provides such flexibility through technical options and solutions.
From an industry perspective, Siebel clinical is supported by a global, world-class support organisation that offers lifetime support. Oracle, through the health sciences global business unit has made a commitment to health sciences, to ensure that Siebel clinical meets customers needs for today and tomorrow, through a well-defined roadmap and customer advocacy board. In addition Oracle's extensive partner network provides various solution options and deployment offerings that ensure customers maximise return on investment and time to value.
Summary
In summary – it should be clear that Siebel clinical provides organisations the ability to manage their clinical trials to improve their operational excellence. Using the Siebel CRM technology platform, Siebel clinical is a unique, compelling solution relevant to any organisation that is involved with the conduct of clinical trials.
Siebel clinical leads the clinical trial management market space in terms of market share, and as part of the health sciences global business unit product portfolio, it is offered as part of complete suite of applications. This Suite is the most complete, in terms of end to end business process support in the clinical trial application domain, both in terms of solution breadth and depth.
Using the development tools provided with Siebel clinical, organisations of all sizes can benefit from the value that it provides and develop its capabilities as their needs evolve.
For a deep insight into the world of pharmaceutical research and development, subscribe to our Clinical Research Knowledgebase
Want a explore a career in Pharmaceutical Research and Development? Join our Diploma in Clinical Research program and kick-start a career in Clinical Research.
Want to get hands-on experience on Oracle Siebel Clinical, subscribe for access to the Oracle Siebel Clinical software
You may be interested in…