The Oracle Clinical program offered by ClinSkill is unique in several ways.
We offer a breakthrough mechanism of learning that is self-paced, flexible, modular, practical and affordable. Let's have a look at what makes this program so unique.
Online access to Oracle Clinical application
Oracle Clinical is the de-facto standard to management of clinical data in the industry today. We believe that the best way to learn is by doing it. There is no substitute for learning clinical data management without practically learning how the process is performed within Oracle Clinical.
Our Oracle Clinical Fundamentals program is bundled with 2 months access to the Oracle Clinical application.User ID and Password is assigned to every student who enrols for the course so that they may use the application get hands-on experience on the concepts learnt in the course.
You do not need to visit our campus for your practicals. Oracle Clinical is available to you online, 24×7, wherever you may be. At home, in the metro or even at a coffee shop. We guarantee 99% uptime of the application.
Access to Online Learning Portal
Learning should be measurable, flexible and self-driven. Our state of the art Learning Management system ensures that students learn effectively and efficiently.
Once a student enrols into our Oracle Clinical Fundamentals program, 24×7 access to our online learning portal is available to the student.
Within the learning portal the course content is arranged as chapters.
Each chapter has an Audio-visual Tutorial to understand the concepts. Also additionally there are Computer Based Trainings (CBTs) that help you understand the concepts in an intuitive manner. This is followed by a Practical assignment that they undertake to perform the specific workflow within Oracle Clinical application.
The practical assignments have been designed using live study documentation that makes the learning experience at par with the activities that are performed in a live clinical study in the pharmaceutical industry.
At the end of each chapter is as Quiz/Assessment that ensures the student has understood and applied the concepts successfully. The results obtained from assessments of all chapters contribute to the final grade of the students.
Instructor support and Discussion Forums
Although our content is carefully drafted to be comprehended easily, we understand that you may need to clear your doubts on certain topics.
Students can easily post their question to the relevant Discussion forum within the course and the Instructor will provide a resolution for the same. Other colleagues in the same course may also contribute an answer to your question at any time.
Learning on your Tablets and Smartphones
We strive towards making your learning flexible so that you can choose when to learn and what to learn.. Many of our students are professionals working in the clinical research industry and would like to learn while they travel back from work.
Our website, Learning Portal and Learning modules are all HTML5 compliant and scale to the size of the device you are learning from.
In addition to this the ClinSkill – App is available for Android and iOS devices and make learning a breeze while on the go.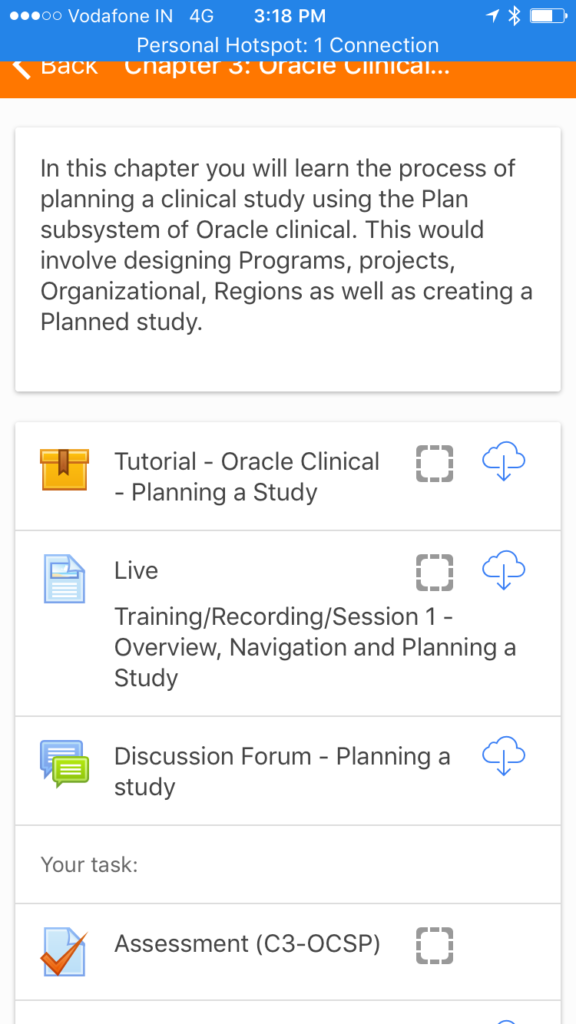 Also, our learning modules know where you've left off. You may complete a module up to slide 5 on a PC and when you open the same module on the tablet, it continues at Slide 6. Nice, ain't it?
Now you can take that assessment from an iPad or read that chapter from a Android device, or ask a question in the discussion forum by simply using your smartphone!. Does any other Oracle Clinical Program offer you that yet?
Track your Performance and Progress 
Its important to know where you stand.Learning without metrics is like driving without brakes.
The Oracle Clinical Fundamentals program offered by ClinSkill offers you metrics that matter. We have a dedicated Learner dashboard that defines your learning status, the chapter you need to focus on your learning outcomes.
You can also know how your scores compare to other students who have enrolled in the same course.
At the end of the course,  a certificate is automatically issued stating your score and grades in each chapter.
Affordable Learning
We offer the 2 months course in Oracle Clinical Fundamentals for as low as Rs. 25,000 (USD 400).
Our low course fee should not judge our course content. We have crafted our course content to be extremely learnable, flexible and comprehensive. We keep our costs low by offering the program as a self-paced online learning program.
However, we understand that some students may desire instructor led training. After enrolling for this course, students will still have the option to upgrade to the Oracle Clinical Advanced program and we will schedule your online sessions with the Faculty.
This ensures that  students spend on learning from an Instructor, only if they do not understand that chapter well enough through self-learning.
The cost of Instructor Led Learning for each chapter is 50 US dollars which is approximately 3000 Indian rupees and can be paid from within the Learning portal.
We also understand that some students may want to take the entire Oracle Clinical course through Instructor Led Training. Don't worry. We have got you covered.
You can opt for Oracle Clinical Advanced program. This is an Instructor-Led program where the training is delivered by an Faculty Online via WebEx.
Interested in Learning from us?  Enrol for Oracle Clinical Program
You may be interested in…